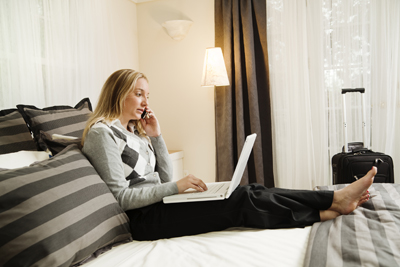 Democrat and Chronicle: I've just returned from a three-day business trip, and I miss my hotel room.
Don't get me wrong: It is great being home. Sleeping in my own bed. Cooking in my own kitchen. Seeing my children. Just being in my cozy, home sweet home.
But still, I want to go back to my hotel room.
In fact, I want to move into my hotel room, because this one was pretty darn special.
It was an enormous room with huge windows overlooking the city. There was a kitchen worthy of a great chef. But who needs to cook when there's room service? The bathroom had a TV in it.
Actually, even when I stay at a less ritzy location, part of me doesn't want to leave. Because there are things about all hotels, that no matter how hard you try, you just don't get at home.
At home, there's no one to make my bed in the morning.
My turn-down service at the end of the night is usually kicking the

dog

to the other side of the bed or "turning down" the husband. There are no little chocolates on my pillow, just grass stains from the dog's feet.
The lights aren't dimmed, accompanied by soothing music, and my slippers aren't at the side of the bed.
And there isn't someone calling you with a soothing voice to wake you up — twice (15 minutes apart).
Most important, at home there's no one magically doing the laundry — it's all me.
I know there are drawbacks to living in a hotel.
It isn't the real world. It is a hermetically sealed little bubble. The food is really salty, and the air is really dry. Often, you can go days without even getting a breath of fresh air. The workout rooms are too small and often don't work at all.
Oh, and it's really expensive. Luckily, this time someone else was footing the bill.
I have started to view my business trips as my own little spa vacations, even when the destination is Dayton, Ohio.
When you are on vacation, you forgive a lot of things, because, well ... you are on vacation.
So when you are traveling on business, and the flight is late, you don't complain. You'll get there when you get there.
Even if the hotel room isn't the best, at least it isn't home, where a lot more is expected of you each night — like cooking dinner.
I will confess, I'm not always the easiest hotel guest. Goldilocks has nothing on me. I need my pillows to be foam and my towels to be plentiful. And I always ask for the second room first so I don't have to move, for any number of reasons: the ice machine is too loud, the elevators are too loud or the room is just inexplicably, annoyingly loud.
The temperature also has to be just right. This summer, I arrived at my hotel in Florida at 2 a.m. after a hellacious flight. I was very cranky, and I had to be ready for an 8 a.m. meeting. I got into my room and realized the thermostat wasn't working and that the room probably wouldn't cool down until after I'd checked out.
They moved me, but I think to spite me the guy working the night shift put me into a room that could have been used as a walk-in freezer with a bed in it.
And yet, as I settled into the frozen bed with the extra blankets I'd ordered for warmth, I couldn't help but think: I even love this hotel room, because, no matter how cold it is, at least I don't have to wash these towels.