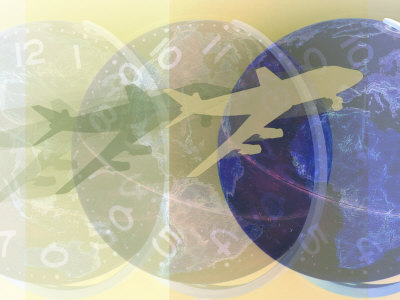 Terminal U: We've all heard of buzzwords like 'staycation' and 'glamping', but what are the next popular travel trends that everyone will be talking about?
An industry report has shed light on some of the key travel trends that will shape the year ahead.
Mystery holidays and camping in a stranger's garden have been identified as some of the trends influencing the global travel industry in 2011.
The findings were published this week in the World Travel Market (WTM) Global Trends 2011 report, which is published annually in association with market analysis company, Euromonitor International.
Here's the lowdown of what's hot in the world of travel at the moment.
US: Top secret holidays
Playing holiday roulette by booking a trip to a mystery hotel or destination may not appeal to every traveller, but the 'blind booking' trend has taken off in America this year, the WTM report highlights.
US-based Nextpedition – launched by American Express this year – is said to be helping to drive the movement.
The site customises mystery package holidays for thrill-seekers willing to leave their entire itinerary and destination in the hands of a travel specialist.
The consumer takes an interactive online quiz to determine their 'Travel Sign' based on their hobbies and interests to help define what they might want from a travel experience.
After a consultation with a 'Nextpedition Specialist', a mystery itinerary is created based on their Travel Sign and budget.
The destination and itinerary are unknown until a traveller's journey begins and is revealed day by day via a smartphone.
Online booking engines in the US such as HotWire and Priceline are also appealing to travellers' sense of adventure with masked hotel reservations, the report adds.
Their 'Secret Hotels' offers don't divulge details of a hotel's name or exact location until a booking is made.
And US-based sites such as luxurylink.com that focus on mystery travel offers and auctions are also getting a following in the domestic travel market, according to the report.
UK: Camping in a stranger's garden
When it comes to travelling on a shoestring, pitching a tent on a stranger's lawn may not sound like everyone's idea of a fun budget holiday.
But it has become something of a growing trend among holidaymakers in the UK, as cash-strapped homeowners turn to sites such as campinmygarden.com to rent out their gardens as campsites, the report says.
The campinmygarden.com website describes the experience as an "accessible, affordable and fun alternative to traditional accommodation."
The report predicts that rent-a-garden idea will become even more popular during the London 2012 Olympic Games.
It has the most appeal to travellers in their 20s and 30s seeking modest, alternative accommodation, or who wish to experience the local community, the report highlights.
It adds that 'uber cocooning', where consumers look to save money by staying at home rather than going out will continue to drive the rent-a-garden trend.
Africa: Buying your plane ticket through your phone
Africa's mobile boom is making travel accessible to those on low-incomes.
As a world leader in mobile or m-commerce, Africa's 489 million mobile phone users are boosting demand for travel services, according to the report.
Mobile phone banking attracts low-income populations in urban and mainly rural areas of Africa, which have no access to financial services.
Kenya Airways and Uganda Airlines are tapping into Africa's mobile boom by enabling customers without a bank account to book flights through their mobile phones, via systems such as M-PESA and Airtel.
Africa's first mobile travel app was launched this year – wakanow.com – which includes searches for flights, hotels and car rental.
While South Africa Tourism Board has launched a mobile site – www.traveltoSA.mobi – offering travel deals to Africans in countries including Angola, Nigeria, Mozambique and Kenya.
Social media has also taken off since Facebook launched in major African languages (Swahili, Hausa and isiZulu), offering African mobile users free access to the site.
The report says that travel operators could open up more opportunities for African travel by developing mobile apps and allowing bookings via social media.
China: Hotel chains adapt for Chinese tourists
The Chinese are expected to spend US$57bn (£35bn) on accommodation domestically and abroad in 2011 – the third highest spending behind the US and Germany, according to the report.
Travellers may notice more hotels offering tailored services to entice Chinese tourists and their rising spending power, the report adds.
In 2011, Hilton announced its 'Huanying ('welcome') programme' which provides creature comforts to Chinese visitors on arrival, in-room and at breakfast.
The programme includes staff fluent in Mandarin at the front desk, two different congee at breakfast and TV programming, along with Chinese tea, tea kettles and slippers.
Also this year, Starwood Hotel Group launched the 'Starwood Personalized Traveler Program' offering Chinese amenities and dining.