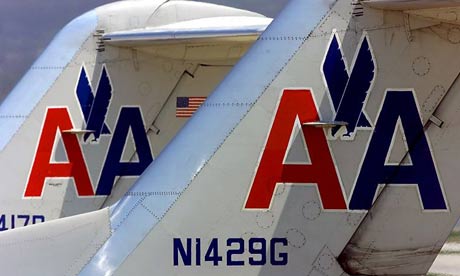 USA Today
: American Airlines is back in the news amid renewed fears about its long-term financial outlook, though airline officials and some analysts suggest the latest speculation may be overblown.
In a story that created a big stir Monday, The Associated Press wrote:
"The stock of American Airlines stock plunged to an eight-year low on fears of a weaker economy — which hurt other airline shares — and speculation that the carrier would seek bankruptcy protection.
A combination of factors drove down shares Monday. Wall Street analysts suggested that American turn to the bankruptcy court to lower costs. Investors were also spooked by a report that showed a slowdown in air travel and cargo. Shareholders, in addition, weighed an announcement that more than ten times the normal number of pilots is retiring from American. That's a signal to some that pilots are fearful about the carrier's health."
By the day's end, shares of American parent AMR dropped 33% to $1.98 -- finishing below $2 a share for the first time since early 2003. AP reporter Scott Mayerowitz notes "trading of the Fort Worth-company was halted seven times Monday because of extreme volatility. Stocks for the entire U.S. airline industry fell 9.8%."
The New York Times says "the sell-off reflected investors' increasing nervousness that American Airlines, with high debt levels and high labor costs, might be too weak to weather another economic downturn. Its competitors, meanwhile, have consolidated and strengthened their share of the airline market."
The Wall Street Journal echoed that sentiment, writing the sell-off "slashed (AMR's) market capitalization to $670 million, underlining investors' disquiet about its prospects."
The Dallas Morning News adds background on that item, noting AMR's market capitalization "dropped below $1 billion for the first time in two years on Friday." The Morning News notes that put "AMR's market cap below every other major carrier, including for the first time US Airways Group."
At least one Wall Street analyst -- Basili Alukos of Morningstar -- was quoted by AP in an earlier story as saying he thinks AMR is in the midst of a "last-ditch effort to return to profitability." As evidence, Alukos points to the company's recently announced plans to spin off its American Eagle regional unit and to place a then-record-breaking order for 460 narrowbody jets.
Perhaps playing a role in AMR's stock drop, the company's plight was the focus Monday morning in The Wall Street Journal's Heard on the Street column. In that column, author Liam Denning writes "AMR's problems look chronic rather than acute."
That chatter comes amid persistent talk about whether American will be able to avoid bankruptcy. Management was able to steer clear of that option last decade, even as rivals United, Delta and US Airways emerged from the bankruptcy process as stronger, leaner competitors.
On that topic, the Journal notes "AMR remains hampered by high labor costs, a legacy of not filing for bankruptcy when its rivals did last decade."
The Journal's Denning also writes in the Heard on the Street column that: "Indeed, some wonder if the airline should pull a General Motors maneuver, and use pre-packaged bankruptcy to rinse out legacy costs and obligations."
American officials insist they're working to avoid bankruptcy. AA spokesman Andy Backover tells Bloomberg News that it "is certainly not our goal or our preference (to file bankruptcy). We know we need to improve our results, and we have a sense of urgency as we work to achieve that."
And several Wall Street analysts were quick to voice skepticism about a looming bankruptcy filing at AMR, even despite the stock plunge and renewed chatter.
Ray Neidl, who focuses on airlines at the Maxim Group, tells AP Monday's stock price drop was "a tremendous overreaction, adding: "American does have big problems to solve, but they have plenty of time to do it."
Airline analyst Hunter Keay of Wolfe Trahan is quoted by the Morning News as saying he thinks the same thing, though he warned the long-term outlook for AMR is murkier.
Keay predicts "minimal near-term risk" for AMR, but says things could become more complicated for the company "toward the back half of next year."
Stay tuned …