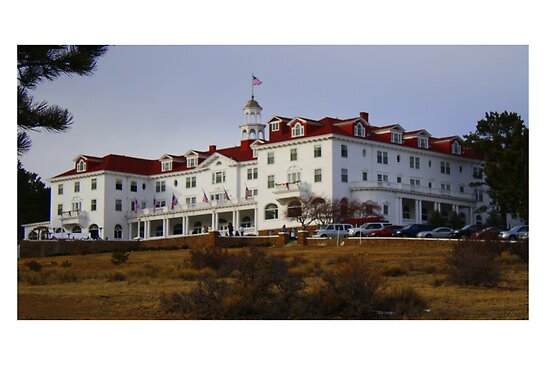 The Stanley Hotel
Travelocity
: You know the feeling when the hair on the back of your neck stands straight up, your heart beats a little faster, and a cold sweat starts to form on your brow. It's that sense that someone—or something—is watching you, but when you turn around to look, there's nothing there. Pretty spooky, isn't it?
With Halloween right around the corner, many people seek out frights by going to haunted houses, haunted hayrides, costume parties, or watching classic horror films. But for the ultimate experience in ghostly getaways, stay a night in one of America's many haunted hotels.
#10 The Pfister Hotel, Downtown Milwaukee
Since its opening in 1893, the hotel's founder, Charles Pfister, wanted to make sure that guests enjoyed their stay in his establishment—a task he still performs to this day. Guests have seen a portly, older, well-dressed gentlemen smiling while surveying the lobby from the grand staircase. Once the guests saw a portrait of the hotel's founder, they swore it was the same man.
#9 Hotel Monteleone, New Orleans French Quarter
With a history of voodoo, New Orleans is no stranger to the paranormal, which means it's no surprise that one of the city's most popular hotels has been deemed haunted by many guests. A night at Hotel Monteleone could include visits from child-like spirits, experiences with locked doors that open and shut on their own, and an elevator with a mind of its own.
#8 Hotel Galvez & Spa, A Wyndham Grand Hotel, Galveston
The city of Galveston has a rich history, some of which still lives on in the halls of the Hotel Galvez. The ghost of a young woman still walks the halls of the fifth floor, agonizing over the loss of her seafaring husband. She is especially partial to room 500, so a night in that suite is a must for the most daring of travelers.
#7 Hotel Jerome, Aspen
During its 120-year history, this Rocky Mountain resort has gained a few permanent residents. The most active spirit is known as the "water boy." The story goes that in 1936, a 10-year-old boy drowned in the hotel's swimming pool during a family trip. Now, a dripping-wet boy is said to appear near room 310—the room his family had stayed in. Guests have reported the boy remains silent, but leaves behind wet footprints.
#6 The Queen Mary, Long Beach
Now permanently moored in Long Beach, this vessel-turned-hotel once ferried passengers and allied troops across the Atlantic Ocean. Even though the ship no longer sails, some of its past guests are reported to still be aboard. While there are many haunts throughout the ship, one of the most famous and most frightening, occurs in cabin B340, which has been closed off due to the extreme paranormal activity.
#5 Hotel Baker, West Chicago
While the distinct architecture, elegance, and charm are captivating on their own, the real intrigue at this hotel comes from its permanent ghostly guest. Said to be a chambermaid who drowned herself after being left by her lover, this apparition is reported to haunt the sixth floor, where her cries can be heard. Some guests also report that their bed sheets have been disheveled—even though no one had been in the room.
#4 Hawthorne Hotel, Boston North Shore
In a city that's well known for supernatural occurrences, this hotel stands out as a place to see hauntings up close. Two of the most talked about paranormal activities in this hotel are the phantom hands in room 325 and the spectral woman on the sixth floor. However, there are plenty of other hauntings that take place throughout the hotel, so be ready for a scare during your stay!
#3 Bourbon Orleans, New Orleans French Quarter
Complete your haunted holiday in New Orleans with a stay at the Bourbon Orleans. As one of the most haunted hotels in the city, this hotel is home to haunts from several different eras. Ghost sightings include a Confederate soldier on the sixth and seventh floors, ghost children and women from the building's time as a convent, and the lonely dancer in the famous Orleans Ballroom.
#2 Crescent Hotel, Eureka Springs
This building's history includes time spent as a hotel, college and controversial health resort. When it was reopened as a hotel in 1946, it seems as if it had gained a few permanent guests over the years. Ghosts have been spotted in rooms 202 and 424, doors seemingly slam shut on their own, and guests have been shaken awake at night by unseen phantoms. We hope you aren't afraid of the dark!
#1 Stanley Hotel, Estes Park
With reports of phantom piano players, ghostly guests, and thieving spirits, the Stanley Hotel is one of the most popular haunted hotels in America. Many amateur and professional paranormal investigations have taken place in this hotel, with inconclusive findings. This hotel also gave Stephen King the inspiration for The Shining, after he stayed a night in room 217. However, no matter which room you stay in, get ready for a spooky experience!